Sure, it's probably happened to all of us. For one reason or another, we didn't brush our teeth. Maybe we rushed out the door in the morning and simply forgot. Or, we finally nodded off after another sleepless night with a new baby and tucked in without taking care of our teeth first. Whatever the cause, the question is: what happens when we forget to brush our teeth?
Just like most important things in life, it's all about timing… the longer you go without brushing, the greater the risk to your oral health.
Keeping Bacteria in Balance
Colgate published research done by the University of Illinois at Chicago College of Dentistry, which determined that the human mouth is home to more than 300 unique types of bacteria. Brushing keeps those bacteria away from your teeth and sensitive gum line. Failure to brush lets the bacteria feast on forgotten food debris in between your teeth, specifically sugars. Eventually, these bacteria build up, leaving a bad taste and smell in your mouth at best and tooth decay at worst.
Wait, there's more. One night — maybe even two or three — of skipped or forgotten brushing might not amount to much, aside from people avoiding conversation with you. More than that can actually cause bone and tissue damage around your teeth, which means you'll be spending more quality time in the dentist's chair.
Check out our infographic for even greater — and grosser! — details on the timeline of trouble you'll be in the longer you go without brushing your teeth.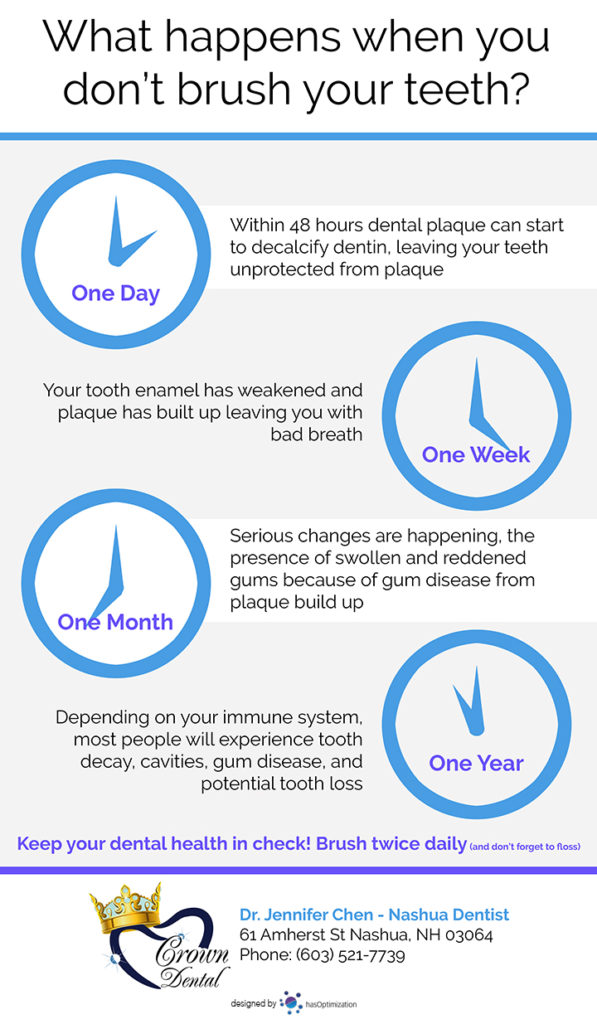 Don't forget, brushing is important and so is flossing. According to the team at Colgate, "When you don't floss, you're at risk for two major dental issues in your mouth: Gingivitis, and cavities between your teeth. Without flossing, you are not able to remove dental plaque buildup."
Even the best dental habits need professional support from time to time. Ensure that you're scheduling a teeth cleaning appointment every six months. Can't remember the last time you had a proper teeth cleaning?
Contact us and we'll schedule your appointment at a time most convenient for you!