When it comes to fixing a dental problem, many of our patients prefer a discrete approach. This is partly why clear aligners like Invisalign, also known as invisible braces, are so popular. Crown Dental offers a variety of clear aligners, but the one most patients will recognize is Invisalign.
If you tend to smile with your mouth closed because you're self-conscious about your teeth, clear aligners like Invisalign might be the perfect solution for you.
How do Invisalign clear aligners work?
We're glad you asked…
Straighten Up with Invisalign Clear Aligners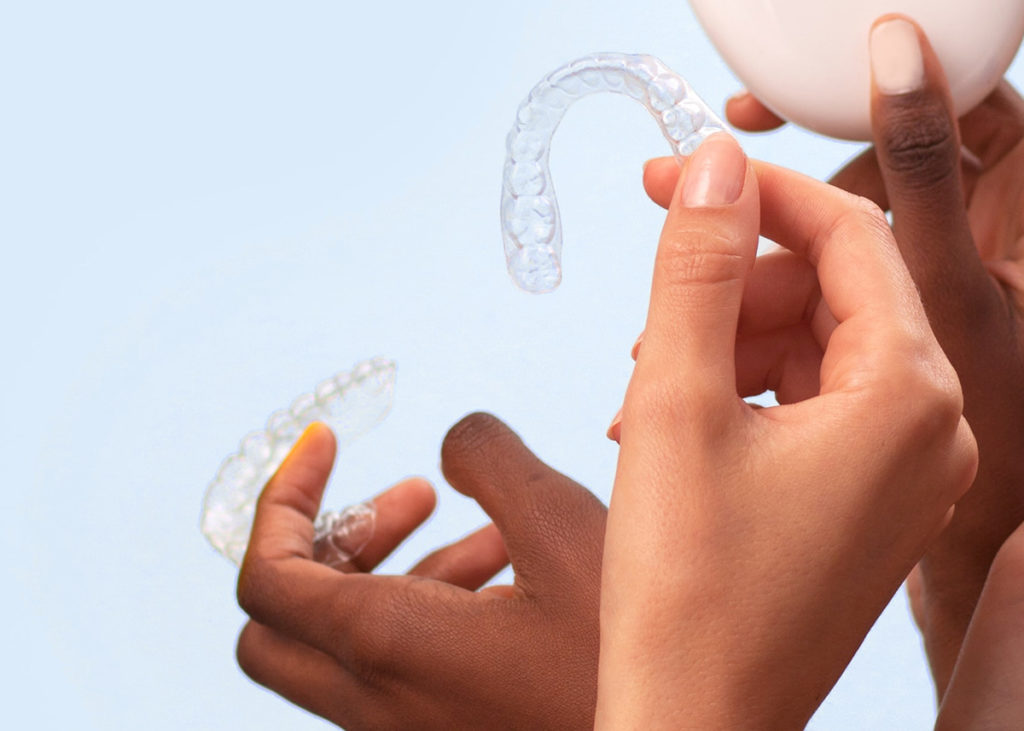 Instead of the can't-miss braces of the past, which featured so much metal and many rubber bands, Invisalign clear aligners are dubbed "invisible braces" for good reason. It's tough to tell when someone is wearing clear aligners; however, the end result is just as effective as traditional braces.
Similar to braces, clear aligners like Invisalign work by moving teeth and jaws into better alignment for a straighter smile. The process is gradual and patients shouldn't expect an overnight transformation when considering clear aligners.
In order to decide whether Invisalign clear aligners are right for you, first you'll need a consultation. During your consultation, Dr. Chen will examine your teeth and take x-rays, impressions, or digital scans to determine the best treatment for your teeth. Ultimately, the goal is to establish a healthy bite between the top and bottom jaws, not just straighten any visibly crooked teeth.
Once the treatment plan is set, the impressions taken of your teeth are used to create custom plastic aligners that will put a small amount of pressure on your teeth in order to realign them, over time. The general recommendation is for patients to wear clear aligners for 22 hours per day, unless otherwise recommended by your dentist.
Patients will wear a set of Invisalign aligners for one to two weeks before swapping out for the subsequent set. The number of sets required for results is patient-specific and determined by your dentist.
As soon as you have finished with your Invisalign course of treatment, expect to schedule routine dental checkups every six to eight weeks. You will also need to wear a retainer to maintain your teeth's new alignment, similar to the follow up associated with traditional braces.
A serious perk of Invisalign clear braces compared to regular braces is that you aren't restricted from foods that would otherwise get caught up in the metal structure or rubber bands. Popping your Invisalign clear aligners in and out of your mouth is simple, which makes brushing and flossing a breeze (said no braces-wearer, ever).
Ready to straighten out that smile and present a more confident version of you to the world? Contact the Crown Dental team to schedule your Invisalign clear aligners consultation.