"Have you been flossing?"
It's the question that makes most of us squirm in a dentist's chair. But why? Sure, it is not the most glamorous activity you will do in a day but it just may be the most beneficial!
Flossing gives some extra love to those hard to reach places a toothbrush cannot clean. We have already learned what happens when we do not brush our teeth; not flossing can also leave a bad taste in your mouth–literally.
Oral B discusses how flossing can aid in gum disease prevention, reduce plaque build up, and even make your teeth look brighter by removing food particles.
Let's be real… there are few better feelings than freeing a popcorn kernel from between your teeth; you can thank floss for that.
What's Your Flossing Tool of Choice?
But wait! There is more! Let's talk about how you floss because there just might be a better option for you.
The typical reasons why people do not floss are:
they have sensitive gums,
they have braces,
floss is just too hard to navigate around the mouth.
If any of this applies to you, it might be time to look into a water flosser. These tools are able to reach into the back of the mouth to get those hard to clean areas. They are gentle, and do not irritate the gums as much as traditional floss. This option is particularly great for people with braces because they do not need to thread the floss between the wire–trust me I've been there–to get in between their teeth.
As you can imagine, a water flosser is more expensive than traditional floss and could be a hassle when you are on the go, which may sway you in the direction of purchasing string floss. Old school floss is a great tool, too! It is also the preferred flossing method by dentists because of their confidence that plaque will be removed.
For more details about which flossing tool may be right for you, check out this infographic!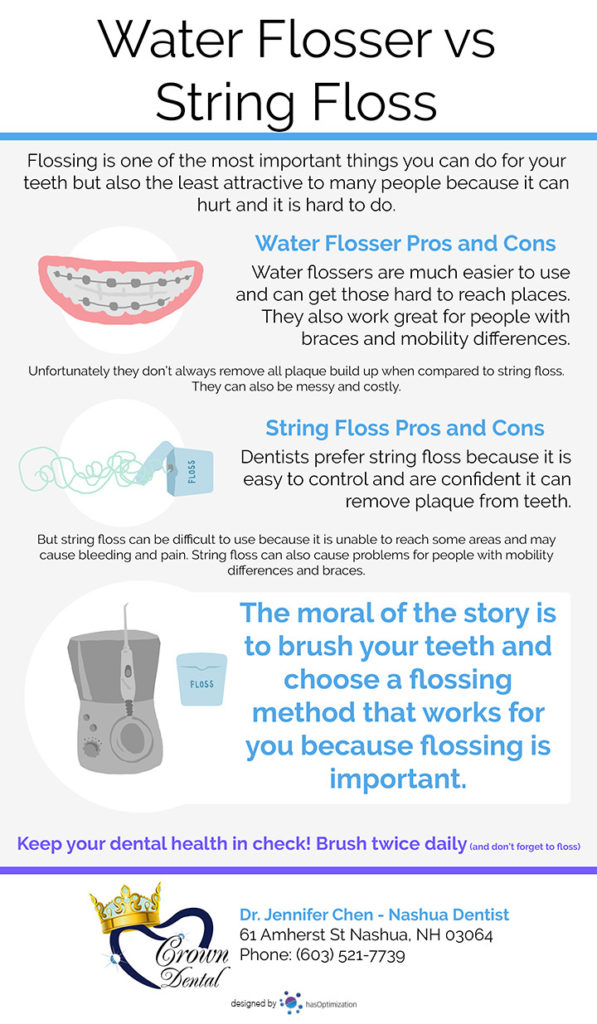 Above all, what your dentist really prefers is that the flossing gets done! Find what works for you and keep that smile as healthy as can be!
As you might imagine, our team is staffed with professional flossers who are only too happy to give you a quick tutorial on best flossing practices. Contact our office to schedule your next cleaning and let our expertise enhance your smile!