What do sugary or sticky foods, acidic drinks, and inadequate brushing all have in common? They represent some of the major causes that will land you in the dentist's chair due to a cavity.
We have all been known to snack on something on the sugary side; no big deal — just make sure your teeth get some attention afterward. Between those sugary snacks, there are plenty of delicious foods to dive your teeth into. Check out our snacking guide for our between-meal favorites.
According to the Mayo Clinic, cavities are among the most common health issues in the world. Left untreated, a cavity can leave a lasting impression on your oral health. Good news for all of us, the best defense against a cavity can be found in our very own bathrooms.
The Warning Signs
A cavity is a hole in the tooth caused by decay, which will, unfortunately, not heal on its own. You may begin to notice a cavity due to sensitivity or pain around a certain tooth, brown or black stains on teeth, or sharp pains when eating something hot or cold. It is best to see a dentist as soon as these symptoms arise because the longer a cavity is untreated, the worse it can be for your overall oral health.
Bacteria will continue to break down the enamel of a tooth until it hits the root. Forget about the tooth pain or sensitivity, an untreated cavity can result in infection or even the loss of a tooth!
Check out our infographic for a visual representation of how a cavity can fester.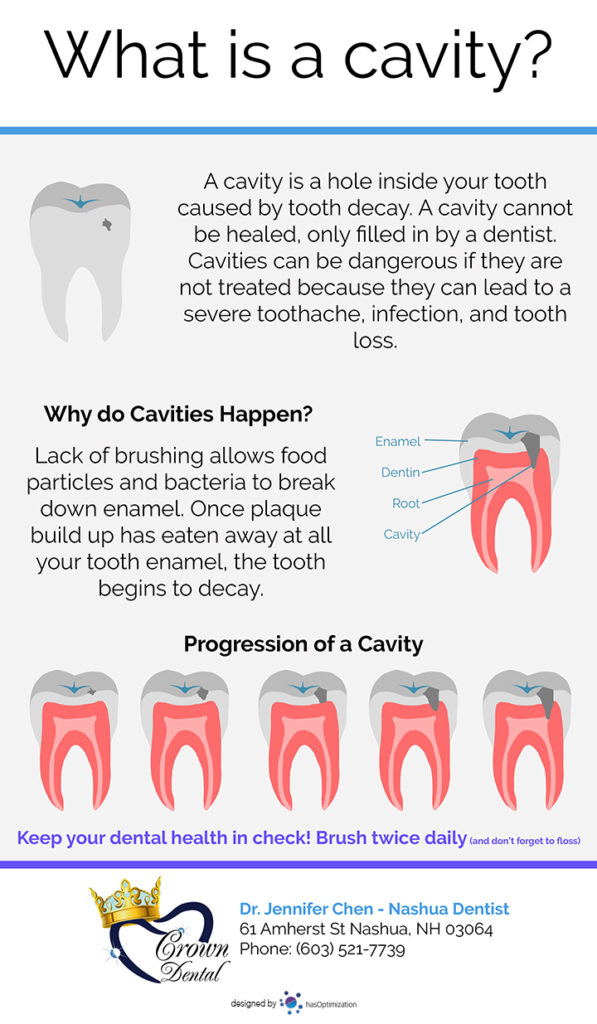 Stop the Intrusion
The best way to prevent a cavity is to brush your teeth twice a day to keep bacteria in your mouth at bay. The next important thing is to floss every day, according to the American Dental Association (ADA), flossing is how we clean between the teeth where the toothbrush cannot reach. By doing this we are protecting our mouths between regular dentist check-ups. This leads to the third prevention tactic: seeing a dentist every six months for a cleaning.
Suffering from some tooth sensitivity? Contact us for help — we're your cavity experts!