Sure, "All I Want for Christmas is My Two Front Teeth" is a cute song, and children missing either one or both of their front teeth are endearing and adorable. But, for adults, missing a tooth can be a source of embarrassment, especially if it's missing from the front of your smile, and there is nothing like a healthy, bright smile to present a confident, friendly face to the world.
The good news is replacing a missing tooth is increasingly easier as oral care continues to advance. Single implants are a permanent way to replace missing teeth and actually benefit your oral health. A single implant is a titanium post, which is surgically centered into your jawbone, right below your gum line. Once that post is implanted, your dentist will be able to attach the replacement tooth, also called a crown or cap. It's a multi-step process completed over a period of time spanning between several months up to a year, depending on the condition of your gums and jawbone.
Here, we'll take you through the basic steps involved with a single implant so that you can consider whether this route is right for you.
The Single Implant Procedure – Step One
As with all dental procedures, the first thing you'll need to do is schedule an appointment for a comprehensive consultation with your dentist. What you can expect from this initial visit is a thorough review of your dental history, as well as new x-rays and impressions made of your teeth and gums so that models can be created. In addition, your dentist might order a CT (computed tomography) scan in order to confirm the amount of jawbone able to secure the implant. This scan will also specify the exact location of your nerves and sinuses, so that they are not damaged during these surgical processes.
If you do not have enough bone to support the implant, your dentist may suggest a preliminary procedure, like bone grafting, which will require anywhere between four to twelve months for the bone to be able to hold the implant.
But, let's say you do have enough healthy bone in your jaw structure to move forward. The next step involves implantology – the process of positioning a plastic surgical guide over your teeth, which stretches over the spaces where your teeth are missing. This shows your dentist where to place the implant.
Most implants are root-form, which means they are designed to be like root of your tooth. The implant is placed in the space where the tooth is missing. Depending on the location, upper or lower jaw, the wait time before moving on to the next step varies. If you needed an implant in the lower jaw, you'll have to wait between four to five months; with the wait time extending between six or seven months for the upper jaw. These months provide the necessary time for your bone and implant to fuse together. As soon as they are fused together successfully, you can move on to the next step of the process, which involves the restoration of the tooth.
Step Two: The Healing Cap and Crown
Once healed, your dentist will screw an abutment into the implant and take another impression of the abutment for your tooth. The abutment and a temporary crown are secured on the implant. Your temporary crown will remain over the abutment between four to six weeks. Again, this gives the gums around it adequate time to heal and match the gums surrounding your natural teeth. Meanwhile, the lab would fabricate a crown based on your model.
Step Three: Your Permanent Crown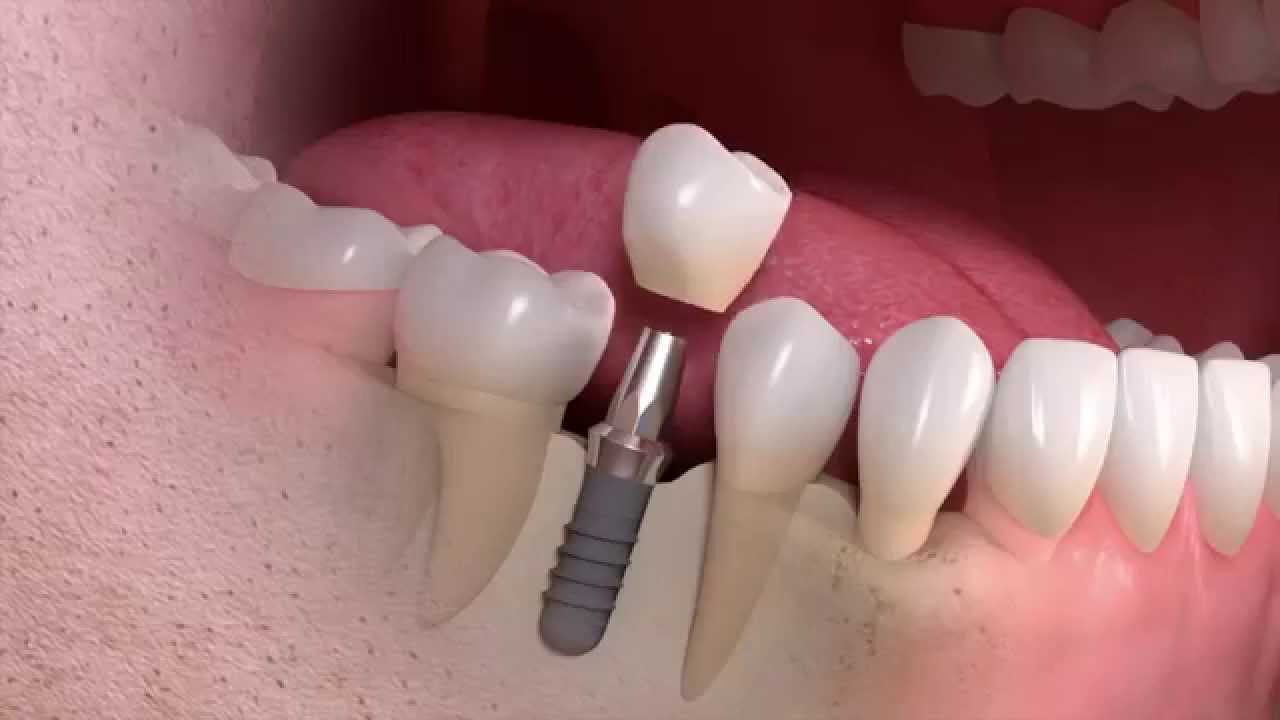 Once the time has come to replace your temporary crown with the permanent one, your dentist will remove the temporary crown and either cement or screw the permanent crown to the abutment. This is one of several ways of restoring an implant. Depending on your gum and available space involved in the area, the restoration protocol may vary.
Simple as that! You now have a single implant and should care for it the way you care for your natural teeth, by brushing and flossing regularly, and keeping up with your teeth cleanings.
Speaking of cleanings, do you know when your next appointment is? Call Karen at Crown Dental, 603-521-7739, and she'll confirm or schedule your next cleaning with Nancy. If a single implant is something you're interested in, simply request a consult with Dr. Chen and get the single implant process started.